LIPSTICK
Lipstick is a cosmetic product containing pigments, oils, waxes, and emollients that applies color, texture, and protection to the lips. Many varieties of lipstick exist. As with most other types of makeup, lipstick is typically, but not exclusively, worn by women. The use of lipstick dates back to ancient times.
When it comes to makeup, lipstick is perhaps one of the more crucial elements to looking fabulous.
How to Apply Lipstick
Here you will find the easiest tips and tricks for applying your lipstick in the right way.
Tip #1
Understand which shades, kinds, and brands your lips prefer and would look good in. Consider your skin tone when selecting the right colors:
Pale-skinned: try light, glossy colors (baby pinks and reds)

Moderate-skinned: use muted colors (muted pinks and even browns)

Dark-skinned: try using gold browns,cherry reds and even nude pinks.

It can vary, however, so find a shade that matches you.
LIPSTICK COLORS
Tip #2


Find a lip liner two shades darker than the lipstick. Lip liner is more important that one might assume because it creates a sort of foundation for the lipstick and can blend well. It also creates the illusion of p
lumper lips for those with thin ones.
Tip #3
Exfoliate your lips. Try scrubbing gently your lips with a toothbrush, or make a paste using sugar and water. Use the paste as an exfoliant and rub some on your lips for about 20 seconds. Rinse it off and smear Vaseline or lip balm on your lips. Wipe it off after a few minutes.
Exfoliate lips with a toothbrush
Tip #4
Outline your lips with the lipliner. If you have thin lips, you can color a little outside of the edge to give the impression of more plump lips.
Draw the line from the outside to the center.

Lipliner can also be used as a base if wished; add to all of your lips but be careful to keep the outline distinct.
Tip #5
Make one or two swipes of the lipstick across your top and bottom lip. It can be more effective to use a brush to apply; ask your makeup retailer for a lipstick brush and try it.



After you have added the first coat of lipstick, apply a little more if desired

. However, remember that less is more when it comes to lipstick, because greasy lips are not only unattractive, but also tend to rub off easily, onto everything.

Tip #6

Blot with the back of your hand or a tissue. Alternatively, suck your finger to blot. Apply gloss if desired. Dab a little in the center. You're finished :)))
Blot your lipstick with a tissue
Apply lipgloss over your lipstick
Finished Lipstick Look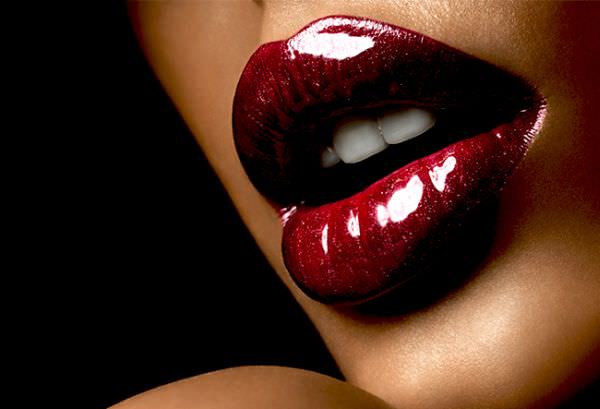 GLOSSY RED LIPSTICK
Beautiful Lipstick Colors
Glossy Candy Pink Lipstick
GOLDEN TIPS
- Apply foundation on your lips before applying lipstick, its staying power will improve.
- Applying highlighter on the middle of the top of your lips will make your lips look fuller.
-

After applying lipstick, take your index finger & pop it in your mouth, then pull it out. The excess lipstick will come off on your finger rather than your teeth. This way you will keep the lipstick off your teeth.
- For 'plump' lips, apply liner just outside your natural lipline.
- You can use lipstick as a blush.
- Store your lipsticks in the fridge. They will definitely last longer.